FEATURES :
Alluminium alloy, St. Steel, Brass, Nylon material.
Inbuilt flange clamping or Set screw clamping
Angular offset upto 5 degrees
Parallel offset upto 0.2 mm No Backlash
Constant velocity transmission
Tortionally stiff
One piece construction
Applications :
Shaft Encoder.
Tachogenerator.
Potentiometers & Variacs.
Stepper & synchronous motor.
Damper Drives.
Rotary position transmiter
Options :
Different Dia & Bore sizes
Higher trosional Versions
Different materials
Product Description
This shaft coupling connects two shaft to transmit torque, motion etc. It is a coupling which can adjust itself to misalignment of two shafts connected by it. Misalignment may be angular, parralle or skew. when motion transmission is important, the misalignment should not affect the velocity & acceleration of the shaft. This calls for a torsionally rigid, yet flexible coupling. This coupling offer you this advantage using special machining processes. Given in this leaflet are verious couplings used in listed applications.
---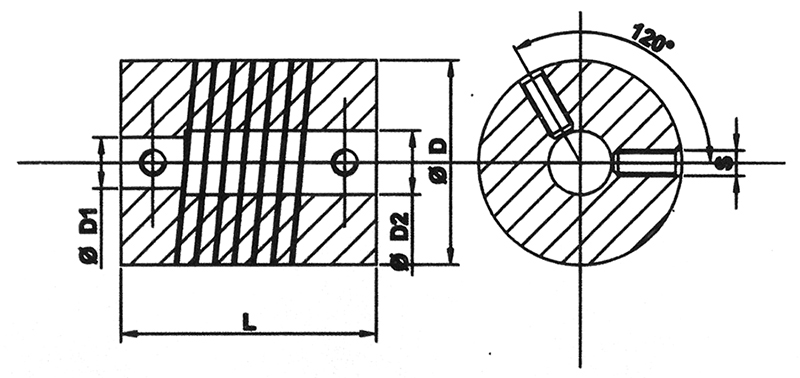 Screw Type
| | | |
| --- | --- | --- |
| D | S | L |
| 14 | M2 | 20 |
| 16 | M2 | 24 |
| 20 | M3 | 28 |
| 25 | M4 | 32 |
| 32 | M4 | 40 |
Table-1
SCREW TYPE
---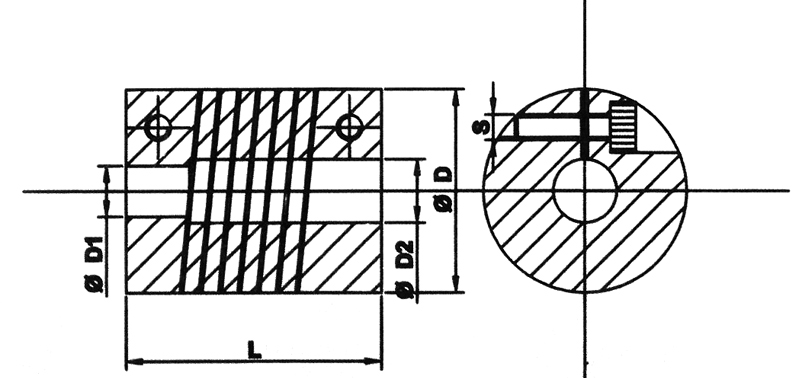 Flange Type
| | | |
| --- | --- | --- |
| D | S | L |
| 14 | M2 | 21 |
| 16 | M2 | 25 |
| 20 | M3 | 28 |
| 25 | M4 | 32 |
| 32 | M4 | 40 |
Table-2
FLANGE TYPE
---
Sr. No.
OD
D1
D2
LENGTH
01
20
6
6
28
02
6
6
03
8
8
04
6
6.35
05
6.35
6.35
06
25
6
8
32
07
6
10
08
8
8
09
10
10
10
6
9.6
11
6
6.35